Ceiling Fans Gold Coast
Call Prompt Electrical today on 07 5535 6642 or 0411 728 572.
For many years, ceiling fans have been popular worldwide as an economic way to keep homes cool, especially during summertime. Even though the price of air conditioning continues to decrease, ceiling fans still offer several benefits that are worthwhile for homeowners to consider.
In Queensland the temperature goes over 30 degrees regularly. Ceiling fans work wonders for cooling down the heat of a room. In fact, it's ideal to have ceiling fans in as many rooms as possible throughout a house or office.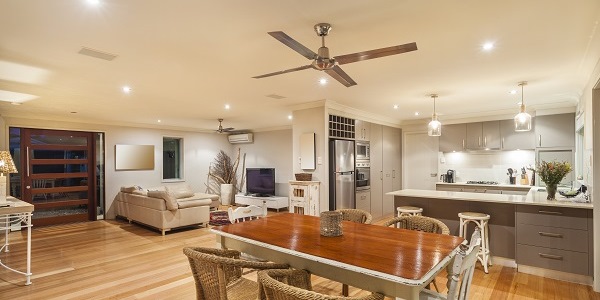 What We Offer
Free quotes
Ceiling fan supply, installation & replacements
Experienced, fully licensed electricians
All workmanship is guaranteed
Here's More You Should Know
Energy efficiency
The effectiveness of a fan is important because it will indicate its energy efficiency. Ceiling fans can help lower your energy costs which will save you $ in the future. They can also reduce your energy consumption by up to 40%.
The bigger the better
The larger the blades of a fan, the more air it will move. This means cooling a bigger space and reducing the stress and increasing productivity of everyone within this zone.
Ceiling fans vs air conditioning
Many homeowners choose to have both ceiling fans and air conditioning. Air conditioning uses much more energy, therefore costing a lot more on the electricity bill. However, one way to help reduce this cost is to use both air conditioning and ceiling fans in tandem. This will achieve optimal results.
Lower Speeds
Lots of people love turning ceiling fans on the highest speed in order to cool the temperature down quickly. However, it can actually be more effective to use a lower speed to have the best impact on the room's temperature.
To be sure you find the perfect ceiling fan for your place, contact the experts at Prompt Electrical today on 07 5535 6642 or 0411 728 572 for a free quote.
You can also send us an email to info@promptelectrical.com.au or use our online contact form.